Storyteller Visit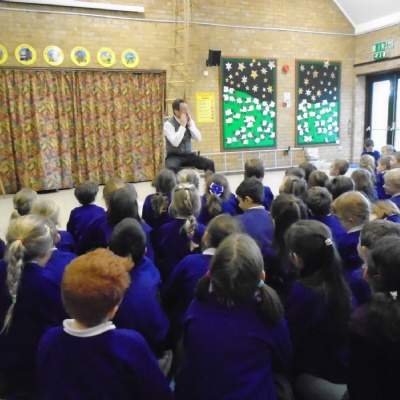 "I can't wait for Chris to come again ! I can't stop talking about this performance. It was so good."
On Wednesday 9th January 2019 we welcomed Chris Connaughton from Intext Performance back to Heatherside Infants.
Last year Chris performed the story The Elves and the Shoemaker and we enjoyed it so much that we asked him for another traditional tale to launch our new topic for this half-term. He didn't disappoint and with much enthusiasm, expression and humour gave us his version of Rumplestiltskin which the children thoroughly enjoyed.
Chris involves the audience in the story and the children were able to finish his lines and join in with clapping and drumming noises. He explained the meaning of some of the words and phrases as he went along which allowed every child to follow the story and understand what was going on.
Listening to Chris tell a story is a real treat for children and staff alike and we hope to welcome him back again.
In Year 2 we asked the children to write a review of Chris's performance and these are some of their words:
"The show was very good. I enjoyed it when he played the part of Rumplestiltskin and he did very good expressions."
"At the start it made me giggle because he made a funny sound although it was just a tummy rumble."
"I can't wait for Chris to come again ! I can't stop talking about this performance. It was so good."
"Then he began and he started off by saying once upon a and we had to say time which made me happy because it made me think that I was part of it."
"I really enjoyed it when he sneezed because it made me jump."
"He made sure we knew what words meant like boasting. It was a good day. I would recommend it to all the other schools."