Art
INTENT
By the time our Heatherside artists leave us in Year 2 we expect them to become competent Heatherside 'colourists':
To identify colour families
Identify primary, secondary and tertiary colours
Know and demonstrate how to make secondary colours from primary colours
Demonstrate a growing confidence in identifying and creating tertiary colours
Understand how the application of colour impacts the overall effect of a piece of art-work, for example through use of complimentary colours and the use of 'hues'
Know and demonstrate how to create a tint to make a lighter tone
Know and demonstrate how to create a shade to make a darker tone
Know and demonstrate how to use tints and shades as a tool for creating depth in artwork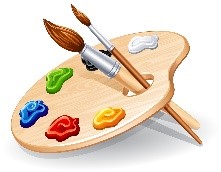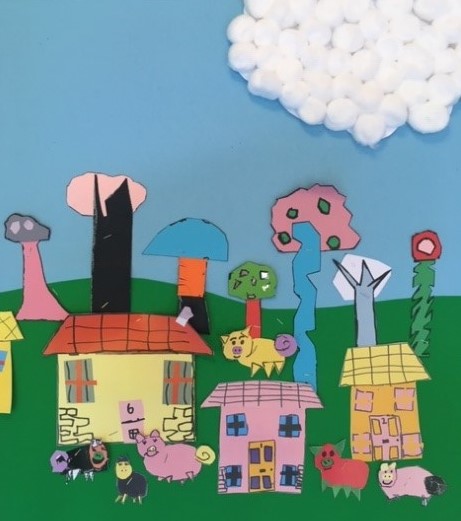 'Marcpaperscissors' – a contemporary paper-cutting artist inspired us to enhance our cutting skills and to use colour for impact.
In order to create some meaningful expressions for our Traditional Tales characters, such as this little piggy's disgruntled look, we learned how to create cartoon faces depicting all different emotions. See some of our practising below:
You can see the progression.....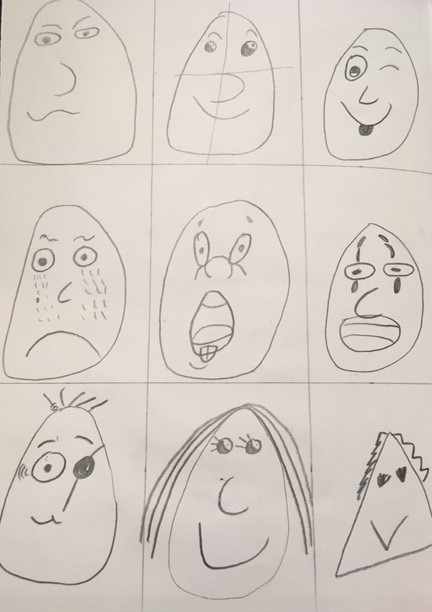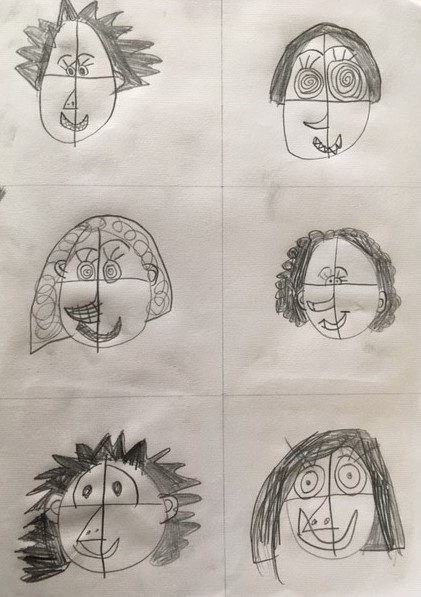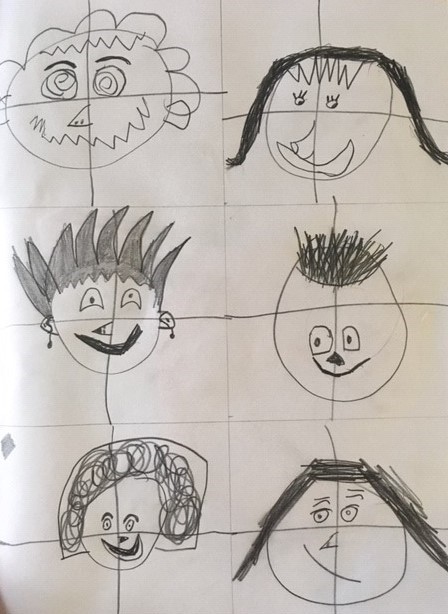 IMPLEMENTATION
During their time at Heatherside, our young infant colourists practice their learning through all art mediums:
Paint, pencil, pastel, crayon, paper, card, clay, salt dough, fabric, recycled fabrics
Through the focus of colour and tone they receive the opportunity to practice the skills and techniques of:
Line drawing, shading, blending, paint mixing, 3D work, printing, collage, weaving, textile work.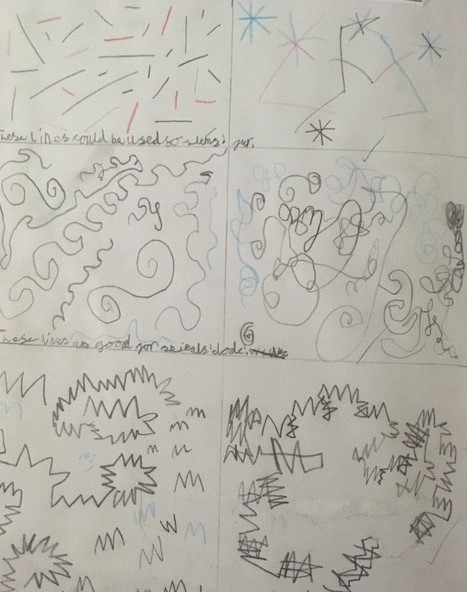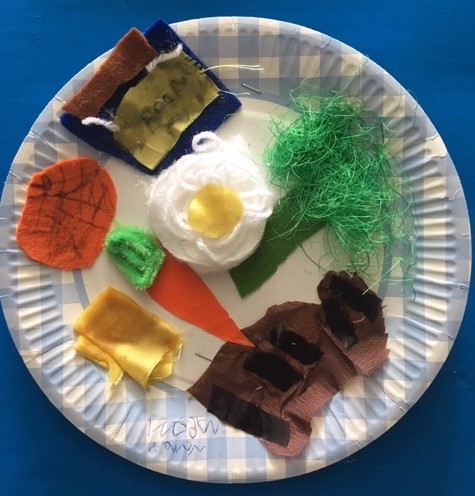 Adapting to the needs of the child:
Colour blindness - Not all children are able to see colour, but this does not mean their needs are not met. Through the focus of tone each child can achieve as a Heatherside Colourist. Our Heatherside adults see art not as a prescription, but as a perception! Every child's creation is valued and celebrated so long as the young artist tries their best.
Physical needs - There are occasions over the years that teachers spot trends in needs. For example, if we find that cutting skills may need further practice our art can be adapted to enhance the fine motor skills needed. We recently included 'Marcpaperscissors', a contemporary paper-cutting colour artist into our art plans. The results were impressive (see above)!
Mental health needs - Our staff practice what we preach, partaking in art immersion during staff meetings. We recognise the value of art for the enhancement of mental health. Our ELSA experts regularly use art and craft as an aid. We use art as a tool to allow expression, relaxation and an opportunity for children to spread out, make a mess, chat and learn from each other.
IMPACT
Appreciation for the classical masters
Appreciation for and recognition of current, living artists and craftspeople, both British and from other cultures and religions around the world
Above all, an appreciation of their own and their peers' work and opportunity to constructively critique and receive critique of their work in a safe and encouraging environment
ENJOYMENT! CONFIDENCE! RESILIENCE!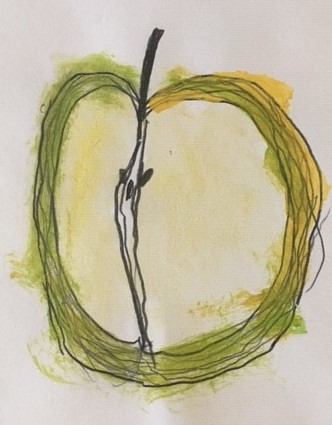 Whilst studying the importance of healthy eating we looked closely at cross-sectioned fruit, observed and carefully line drew the detail we saw. We mixed and blended colour paint or pastels to enhance our detailed drawings. See below for a follow-up.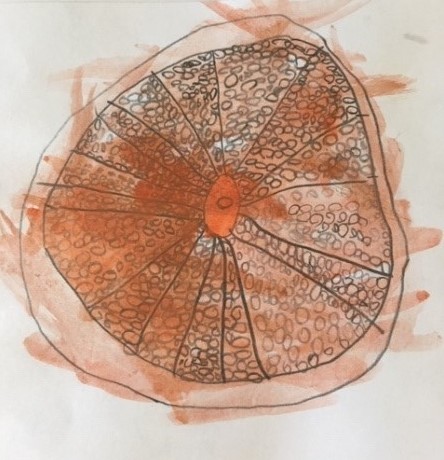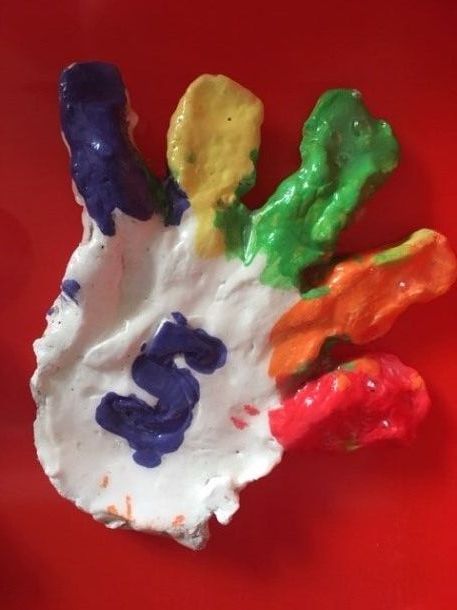 The children certainly learned resilience and patience through this clay activity. It was a learning experience in that the clay we bought was far too wet. The children struggled to work with it but persisted to produce '5-a-day-fingers.' What the children learned was that the materials you use really do matter. It opened an opportunity for discussion about what would have been a better clay property and to use language to describe the stickiness and sloppiness of the clay. Everything offers an opportunity for learning!!
We learned to adapt and the results were this lovely, colourful hand of primary and secondary colours that represent fruits.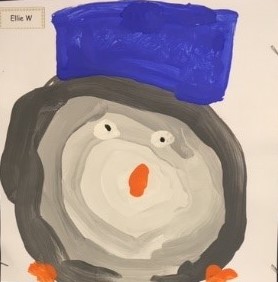 Even at an early stage in our school we are using tints and tones to create light and shade.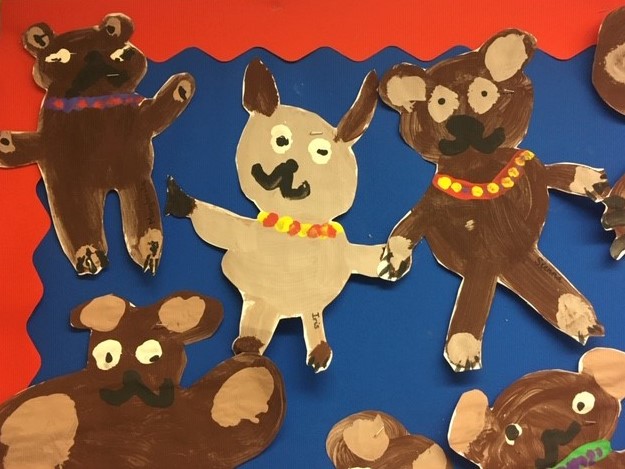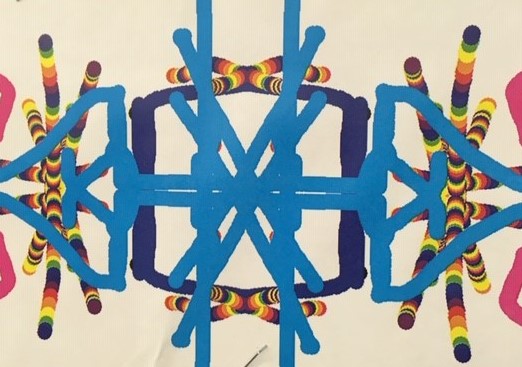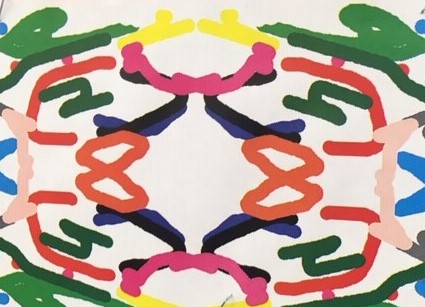 Inspired by art from different cultures and religions - Rangoli patterns, Mehndi designs and Australian Aboriginal art.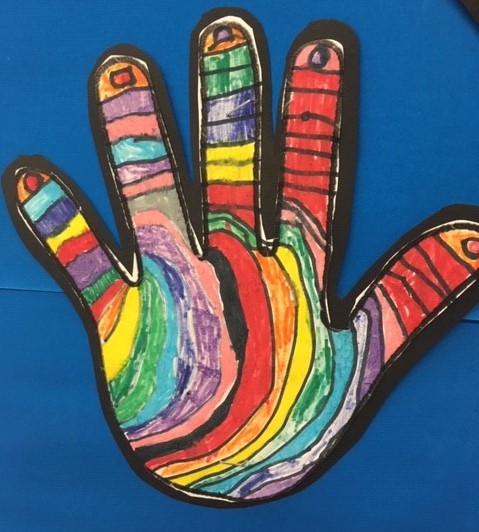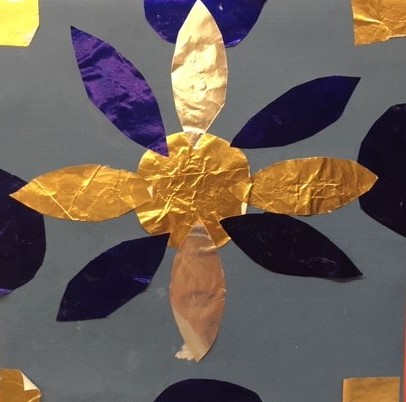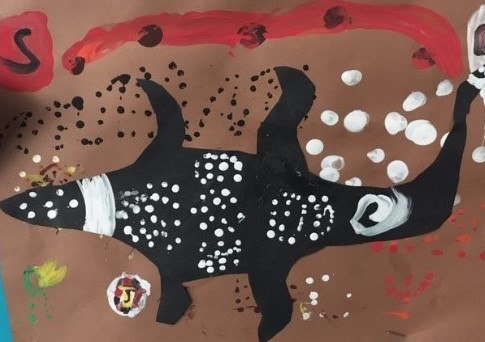 These beautiful masterpieces below are an example of careful inclusion of observed line-drawn detail; collage to add texture; colour to add texture through different shades of paper; backwash to compliment the foreground; use of blending to create depth.
What wonderful artists our Heathersiders have become!!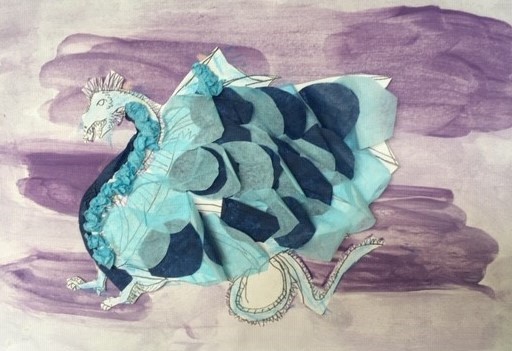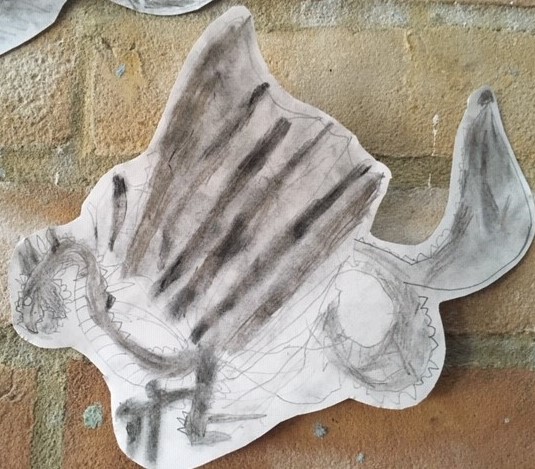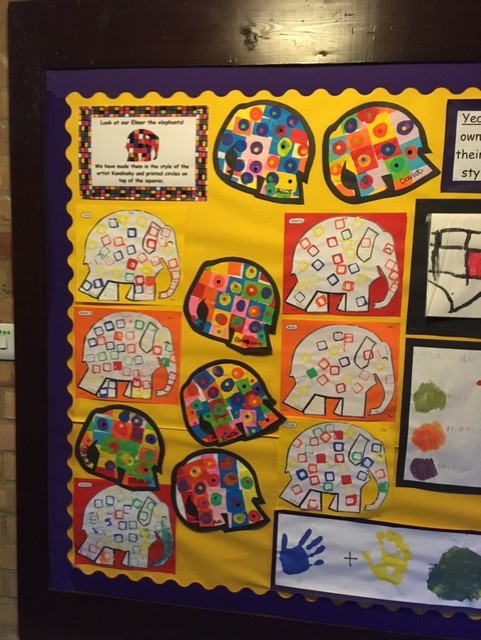 Year R have been busy exploring and learning about colour. They have learnt how to make a colour stand out against another, as with these Kandinsky-inspired Elmers, decorated with circles printed onto squares of paper. They have learnt how to create the biggest impact and take care with where to place each piece of paper and each print.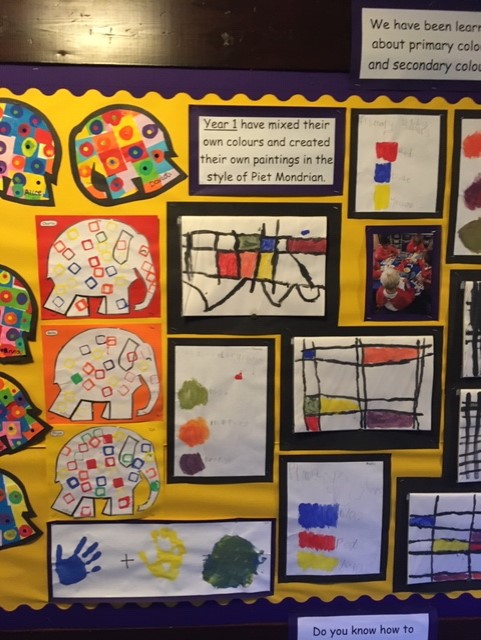 Year 1 have been extending their basic colour knowledge and learning to categorise colours into primary and secondary colours. They have learnt how to make a secondary colour by using only the 3 primary colours of red, blue and yellow and they have become confident practitioners of mixing secondary colours with liquid paint. Our Heatherside artists' skills with transferring paint from pallet to pallet in a controlled and considered manner has been demonstrated throughout this first half-term of 2020, and their ability to assess and critique their mixing has improved vastly from the beginning of term. In addition to this they have been exploring how to control their line drawing, attempting to draw their Mondrian-inspired 'squares and rectangles' without the use of a ruler. Each painting is the child-artist's own interpretation and choice of line-work and colour-mix.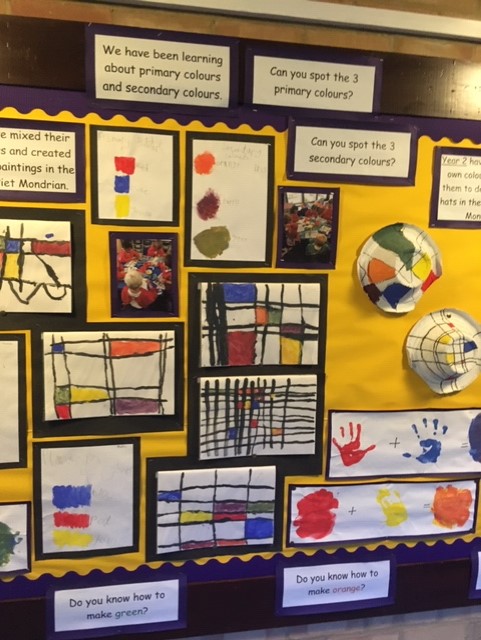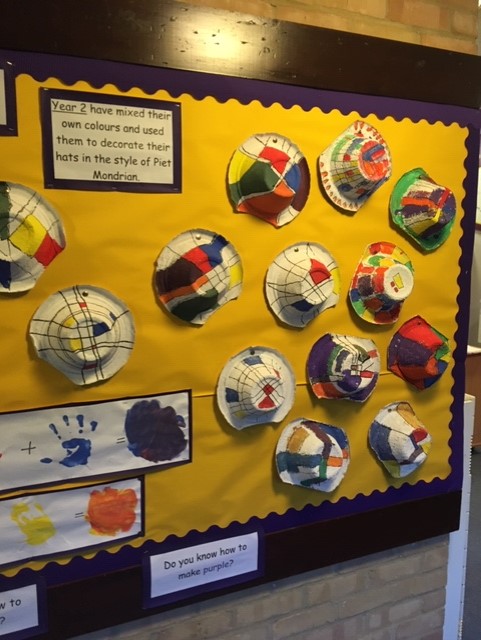 Year 2 have worked so hard on their art during a busy return to school in September 2020. They have fully embraced the excitement of exploring primary, secondary and tertiary colours and how to make them from a base of the 3 primary colours of red, blue and yellow. They incorporated their explorations and practice into creating hats with a Mondrian-inspired design. Again, each child-artist has been given the freedom to use their own interpretation of design and colour-mixing.
Knowledgeable and skillful Heatherside Colourists, from Year R to Year 2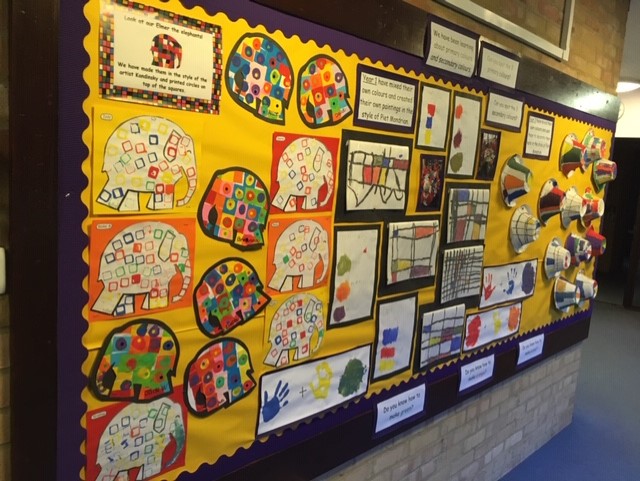 Engage, Enthuse, Enjoy, Excel - Where happy confident children have a passion for learning