Frequently Asked Questions
We have tried to cover all aspects of school life on our website but there may be a few outstanding questions that you feel we haven't answered. We have compiled the following FAQs from new parents and we hope you find this a useful resource to get to know more about our school.
What is your School Ethos?
Our ethos and values underpin all that we do at Heatherside Infants.
We develop happy confident children with a passion for learning.
The children are engaged in their activities, are enthused by their work and play, they enjoy their time in school and they are able to excel.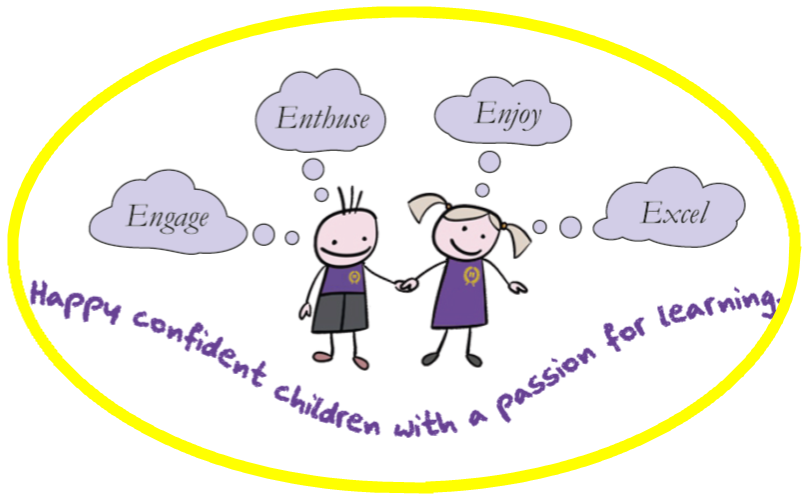 What is your staff retention and how long have the current staff worked here?
We have a very happy and settled teaching staff with no movement within the last 4 years. Mrs Lynch is in her 12th year of headship at Heatherside Infants. Our Learning Support Assistants are all well established in school too and any staff movement tends to be in our Lunchtime Supervisors who in the first instance are parents returning to work after family breaks.
What wrap around care do you offer at Heatherside Infants?
We offer a Breakfast Club which is run by SCL which runs from 7.45am – 8.45am. We do not provide wrap around care at the end of the day due to lack of space in order to be Ofsted compliant, however, we have a large group of Heatherside Childminders who can be accessed via Facebook. Please visit Heatherside Childminders and Hart Childminding Vacancies on Facebook for more details.
What after school clubs do you offer?
Please visit our website page for further information about the range of After School Clubs we offer to each year group. Year R children are invited to start joining a limited number of After School Clubs run by SCL from each January. We feel it is important that they spend the first term settling in to the routines of school day and build up their stamina for a slightly longer day.
What are the start and finish times for the children, including playtime breaks?
This is detailed in our Overview of the Day. School opens at 8.45am when the children can be dropped off to their classroom – they should be in class by 8.55am daily. Year R finish at 3.10pm daily, Year 1 and Year 2 finish at 3.15pm (this allows parents with siblings to pick up their little ones first). The children have a morning break of 15 mins (usually at 10.15am in Year R and 10.30 in Key Stage 1); they have 1 hour 5 minutes for lunch . In the Autumn term lunch time is a little longer in order to establish routines.
We have 2 large playgrounds – one at the side of the school (Key Stage 1) and one at the back, which is the home of our fabulous pirate ship. Year R use only the back playground for all of their playtime. Year 1 & 2 use both playgrounds, however, they are timetabled differently to the Year R children. There is a class rota for using the pirate ship. All playtimes are supervised by our Staff. We do not have our own playing field, however, for events such as Sports Activity Morning and our Year 1 community event with Fleet Infants, we are able to use the field at our linked Junior School. Our side playground is used for our after school clubs run by SCL (Football and Multi-Sports). It is possible for portable goals to be erected when required and during the summer term they are able to use the field adjacent to the Junior School.
You can also find out more about our lunchtime routines, we know this is a very important part of the day for the children!.
Can parents park on the school site?
Across both Heatherside Infant and Junior schools there are approximately 720 children – when you account for siblings/prams/parents, the footfall at drop off/pick up can approach 1200-1500; plus there are at least 100 staff on site across both schools.
Whilst our car park looks big, sadly it isn't even sufficient for all of our staff therefore there is no parking for parents. The only exception is for Blue Badge Holders. There are local roads where you can park, however, we always request that you park respectfully and with consideration for our neighbours.
What does a Year R day look like?
If you haven't done so already, please take a look at our video of our Year R Classes and also see what our Year R children want to tell you about their school:
Where does my child leave their coat/book bag?
We are very fortunate at our school that every classroom has its own cloakroom and toilet facilities which the children have free access to throughout the day. Within the cloakroom the children will have their own peg to hang their coat/PE kits; there are coloured boxes on the floor where their book bags are stored during the day.
How many pupils do you accommodate?
We are a large mixed infant school for children aged 4 to 7, with a published admission number of 100, accommodating 300 children across 3 year groups. Our ten classrooms, library and creative arts room are built around an inner court yard. Our school and classrooms provide a warm, welcoming and stimulating environment for our children .
How many children and adults are in each class?
All infant schools are governed by an infant class size rule allowing a maximum of 30 pupils per class. All of our classes cater for 30 children with one Teacher and one Learning Support Assistant. In addition to this we may have some Special Needs Assistants (SNA) assigned to the class in certain circumstances.
With a PAN (Published Admission Number) of 100 how do we organise our classes?
We organise our classes into three pure Year R classes of 30 children in each and the eldest ten Year R children (usually 5 boys/5 girls) are placed in a mixed Year R/Year 1 class with 20 mixed ability/mixed age Year 1 children.
Our Key Stage One classes consist of two pure Year 2 classes, two pure Year 1 classes, all with 30 children in each, and two mixed ability/mixed age Year 1 and Year 2 children.
We have Mini Beast classes in Year R, Bird classes in Year 1 and finally Big Cat classes in Year 2. Our classes are illustrated here.
How is my child assigned to a class in Early Years?
Once your child has been offered a place at Heatherside Infants, we gather information from parents about their child, via an All About My Child questionnaire, as well as from their pre-school or nursery setting. We are looking at friendships, abilities and blending the different pre-schools so they are represented in each Year R class. We also consider an even gender mix in each class as well as a full range of birth dates. All of this information helps us prepare the classes in the best way we can; you will appreciate it is a mammoth job with so many factors to consider and we ask that you trust the experience and knowledge of the Year R staff in this task!
Usually our staff are able to visit your child's pre-school setting and meet with their Keyworker to find out a little more about your child. We do not carry out home visits unless requested.
How does the mixed Year R/Year 1 class work and how do you decide which YR children go into that class?
Our Published Admission Number (PAN) is 100 in each of the three year groups. This figure is set by Hampshire County Council. The configuration of the classes will therefore be 3 x pure year R classes, with the 10 eldest Year R children joining 20 mixed ability Year 1 children to make a vertically grouped Year R/1 class. There will be 2 x pure Year 1 classes and 2 x pure Year 2 classes with 2 further vertically grouped Year 2 / 1 classes, each with 10 x Year 1 and 20 x Year 2 pupils. Refer to the PAN question and how we organise above.
What happens at the end of Year R? Do the classes move together?
At the end of Year R (Early Years) our children are regrouped and reassigned into new classes in Key Stage 1 (Year 1/2). We believe this is essential to support the children in developing personal social skills so that they become familiar with all children across their year group. Consideration is given again at this time to friendships, ability and creating a balanced class.
What is the organisation of the classes in KS1 (Year 1/2)?
In Year 1 children are assigned to two pure Y1 classes, 2 pure Y2 classes, 2 mixed Y1/2 classes (20 x Year 2, 10 x Year 1 children). Again, as in Year R, there is one Class Teacher and one Learning Support Assistant for each class.
How do we accommodate the needs of children in a mixed class?
Enjoyment and achievement are at the core of our curriculum. We believe that education is a holistic experience, not purely academic, so that the whole child is developed.
We offer a broad and balanced curriculum enabling children to develop independence, confidence and a real love of learning. We plan whole school thematic topics such as 'Golden Start,' 'Being an Explorer', 'My World' and 'Traditional Tales' are enjoyed simultaneously across the whole school. Our thematic approach allows us to encompass literacy and numeracy with such subjects as music, art, history and geography, so that learning is real and relevant. This approach is stimulating and motivates our children to learn and have fun in the process. This allows us to teach according to the child's starting point, no matter what year group they are in. The overarching theme allows us to differentiate where they are on their learning journey.
Do you offer school trips?
Our curriculum is further enriched through school trips both into the local area and further afield. In previous years we have enjoyed visits to Finkley Down Farm, Marwell Zoo, Gilbert White Field Studies Centre, Milestones Museum, The Lookout, the Blue Reef Aquarium, Birdworld, Windsor Castle to name but a few. The locations for each trip are carefully chosen to enhance the curriculum topic the children will be following at the time. Trips are usually arranged for the Summer Term when we hope the weather will be kind to us!