Safeguarding
Safeguarding is fundamental to our culture at Heatherside Infant School. Safeguarding our children is a priority in every aspect of life at Heatherside Infant School.
We follow all current Government Guidelines including Keeping Children Safe in Education. Training for staff and volunteers is very important but equally important is the education of our children to keep themselves safe.
Our Designated Safeguarding Lead is the Headteacher, Mrs Christine Lynch, and in her absence, Mrs Sarah Jewitt. Our Governor with responsibility for safeguarding is Mr Josh McCormack.
Overview of Safeguarding at Heatherside Infant School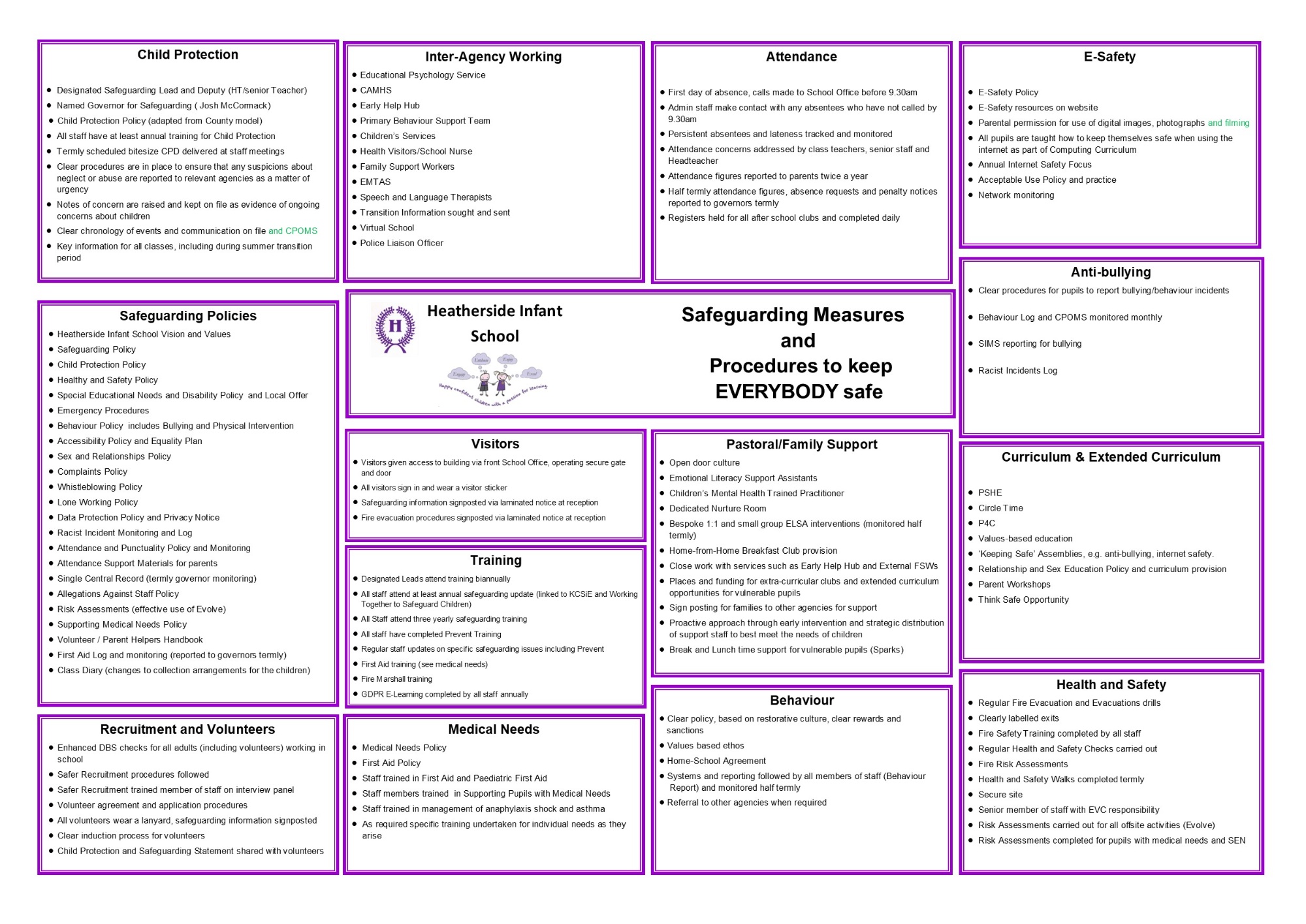 Please see the attached policies which underpin our Safeguarding culture.
For safeguarding purposes there are security CCTV cameras on the school site.
Please visit the websites below for further useful safeguarding information for parents, children and young people:
Volunteers, Parents and Grandparent Helpers
We are privileged to have so many parents and family members as well as other volunteers who offer to help in school. It is very important that they understand and work within our Safeguarding culture.
All our volunteers are expected to complete an application form and provide references, receive a clear Enhanced DBS Check and undertake safeguarding training with the Headteacher. Further details about volunteering at our school can be found here.
Access and Information for Volunteers and Visitors
All volunteers and visitors to our School are asked to report to the School Office and will be signed in the Visitor's Book by a member of the Admin Team. Verification of identity will be carried out and the appropriate School sticker will be issued which must be worn during their visit.
Our front entrance is wheelchair accessible. If you have any access requirements, please do not hesitate to contact us in advance of your visit in order for appropriate arrangements to be made.